Lobbs Lake - Fishing for Families
We are very pleased to announce that Lobbs Lake is now open. Please see below for the new Lobbs Lake permit option.
Lobbs Lake Notice
Please note that on Sunday 14th July 2019 Lobbs Lake will be closed for the day and will re-open on Monday 15th July 2019. Anchor Lake & the Cafe will be open as per the normal opening hours.
Lobbs Lake was the original venue at Exe Valley Fishery, the brainchild of the late Mrs Ellen Maund who had the idea of stocking Rainbow Trout for anglers to enjoy back in the late 1960s. Since then the half acre venue has welcomed thousands of novice fly anglers learning to cast & experience the pull of their first Trout, although in recent years it has become most popular with families, introducing the new generation to the joys of fishing.
With this in mind Lobbs Lake is available for spinning and bait fishing. Lobbs is heavily stocked with fish and is therefore the perfect place to catch a Trout for the table, or even a lakeside barbeque. In fact during the summer several generations of the same family can often be seen enjoying the fishing, while relaxing with a picnic at the waters edge. For the more experienced the fishery complex includes Anchor Lake, which is operated on a fly only basis.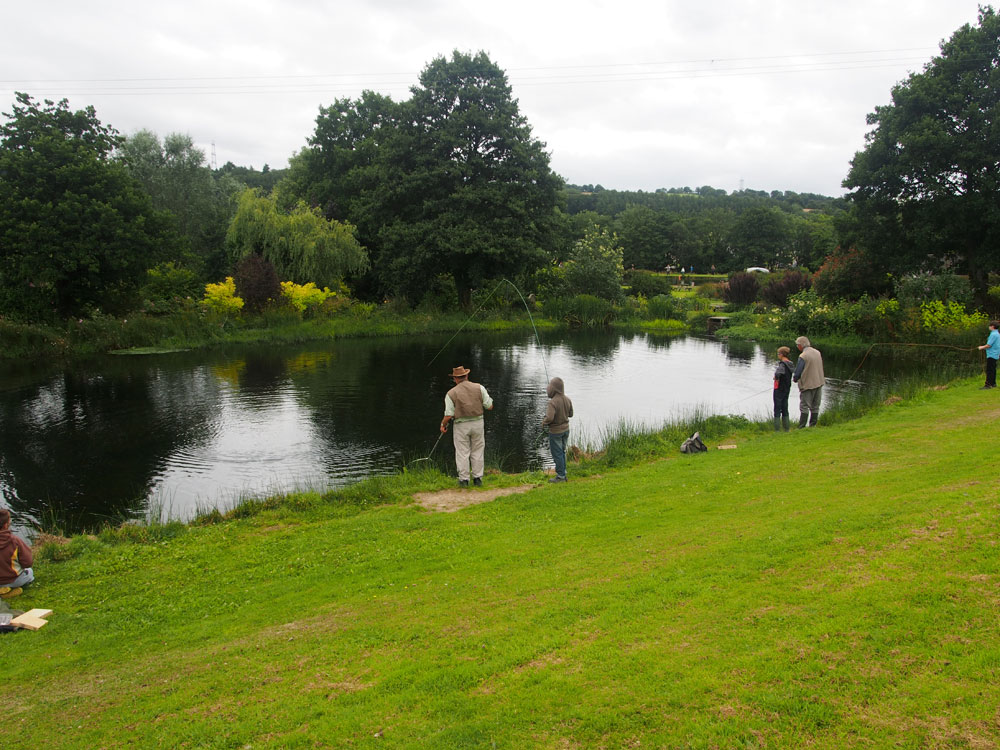 Lobbs Lake New Permit Options
Lobbs Lake re-opened for family fishing on Monday 1st April 2019 and has a very special separate permit to Anchor Lake, designed to encourage families to introduce their children to the thrill of fishing. The lake is heavily stocked and is reserved for spinning & bait fishing only, ensuring a safe environment for young anglers. There will also be the opportunity for children to feed the fish with bags of pellets available for sale during shop hours.
Cheap Fishing for Children
So what about those very special prices? Having two children of our own we understand how expensive life is these days so we have decided to do our bit and help you have an inexpensive day out with your family and the chance to take home a Trout for tea.
There will be no up front cost to pay and Trout will be charged at just £5 per fish! So if your little people don't catch, you don't pay! All trout caught are to be retained (strictly no catch & release on Lobbs) and the fee posted in the box after fishing e.g. 2 fish = £10, 4 fish = £20 & 10 fish = £50 Please note that prior to fishing supervising adults MUST complete the sign-in form situated in the permit hut, or you may sign in at the shop during our opening hours. There is an age restriction of up to 14 years old on Lobbs Lake.
Please note we do of course expect adults to be helping with casting, supervising and ensuring safety, however this special rate is not available for adults fishing on their own. Lobbs Lake is reserved for children only. If you would like to take a budding young fly angler fishing please remember that children up to 14 years old can share an adults permit on Anchor Lake, including our super value catch & release option. Look out for some very special news regarding Anchor Permits next week.
Don't have any fishing kit?
We have a stock of perfect sized rods and reels for hire, plus nets priced at just £5 per kit, per session. Spinners, lures, bait, hooks & floats are available to purchase during shop hours, please note that these consumables are not part of the hire kit and can be taken away for your next fishing trip. And if your children really become addicted (we hope so!) there will be inexpensive junior kits available to buy.
Lobbs is easily accessed from the main car park and as we can almost guarantee a catch it is the ideal place to introduce your children to fishing.
LOBBS LAKE FACTFILE
Stock: Rainbow Trout up to 3lbs

Ideal for: Novice anglers, children & families

Recommended Tackle: 6' to 7' Spinning Rod

Methods: Bait or Spin

Best Bait: Bread, Cheese, Worms or Mepps Spinners

Depth: 6' to 8'

Facilities: Close to car park, toilets & shop. Picnic benches. Feed the fish.

Opening Times: All Year; No close season! 8.00am to 6.00pm (plus out of hours fishing by prior arrangement)